Cheltenham Station was one component of the Epping to Thornleigh Third Track (ETTT) project, one of four projects that makes up the Northern Sydney Freight Corridor (NSFC) Program. The NSFC Program is a joint Australian and NSW Government initiative to improve the capacity and reliability of freight trains between Strathfield and Broadmeadow, Newcastle. The ETTT project included the construction of six kilometres of new and upgraded track to separate northbound freight from all-stops passenger train movements along the steep incline between Epping and Thornleigh.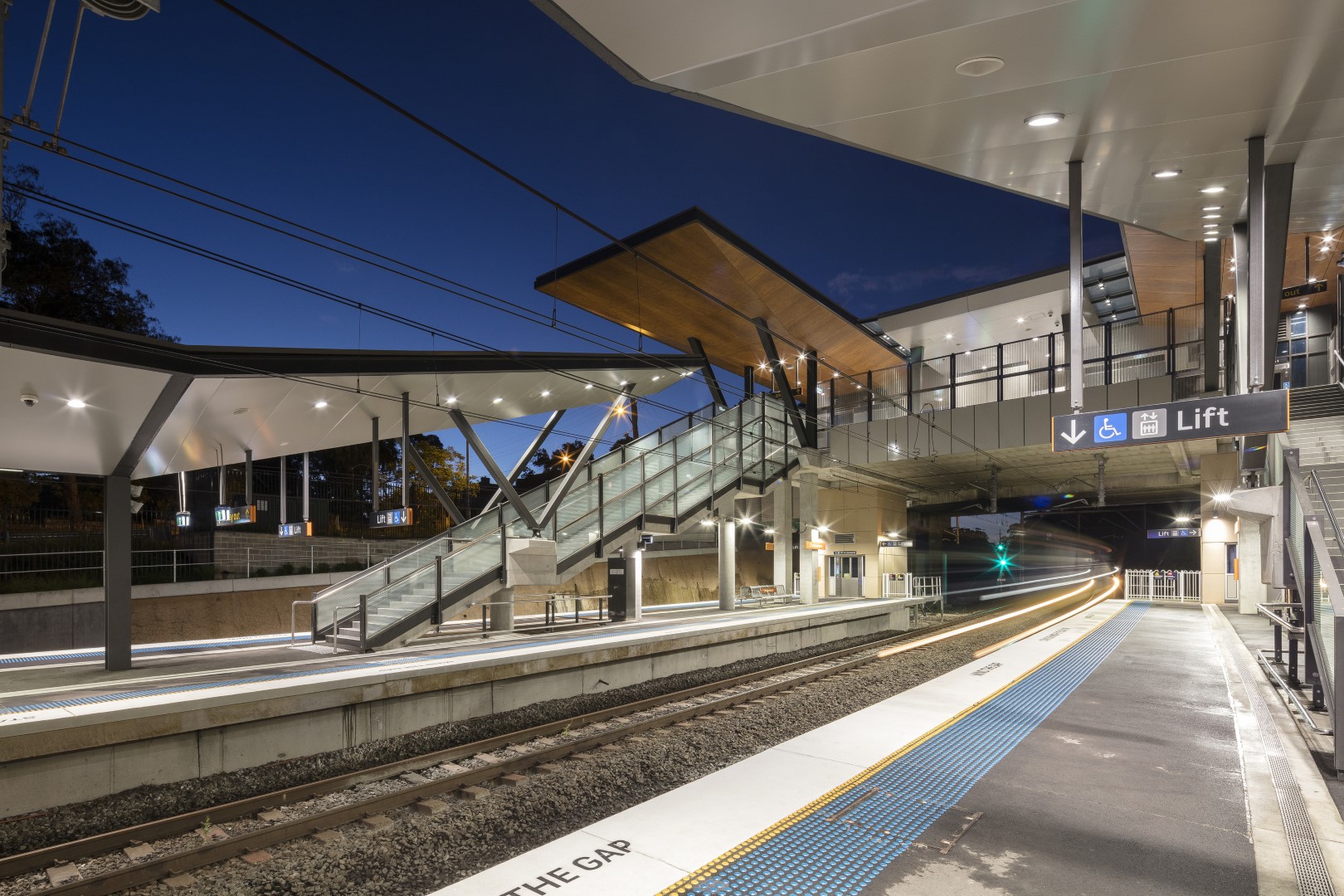 Tom Ferguson
Platform access for northbound passengers was previously an on-grade from the adjacent street however the new freight line cut off that option. This resulted in the need for complete reconfiguration and refurbishment of the station, which remained in operation during construction. Our aspiration has been to respond sensitively to the unique character of the station site, and transform an outdated public facility into a contemporary, distinctive, inspiring and enjoyable experience for everyone who interacts with it.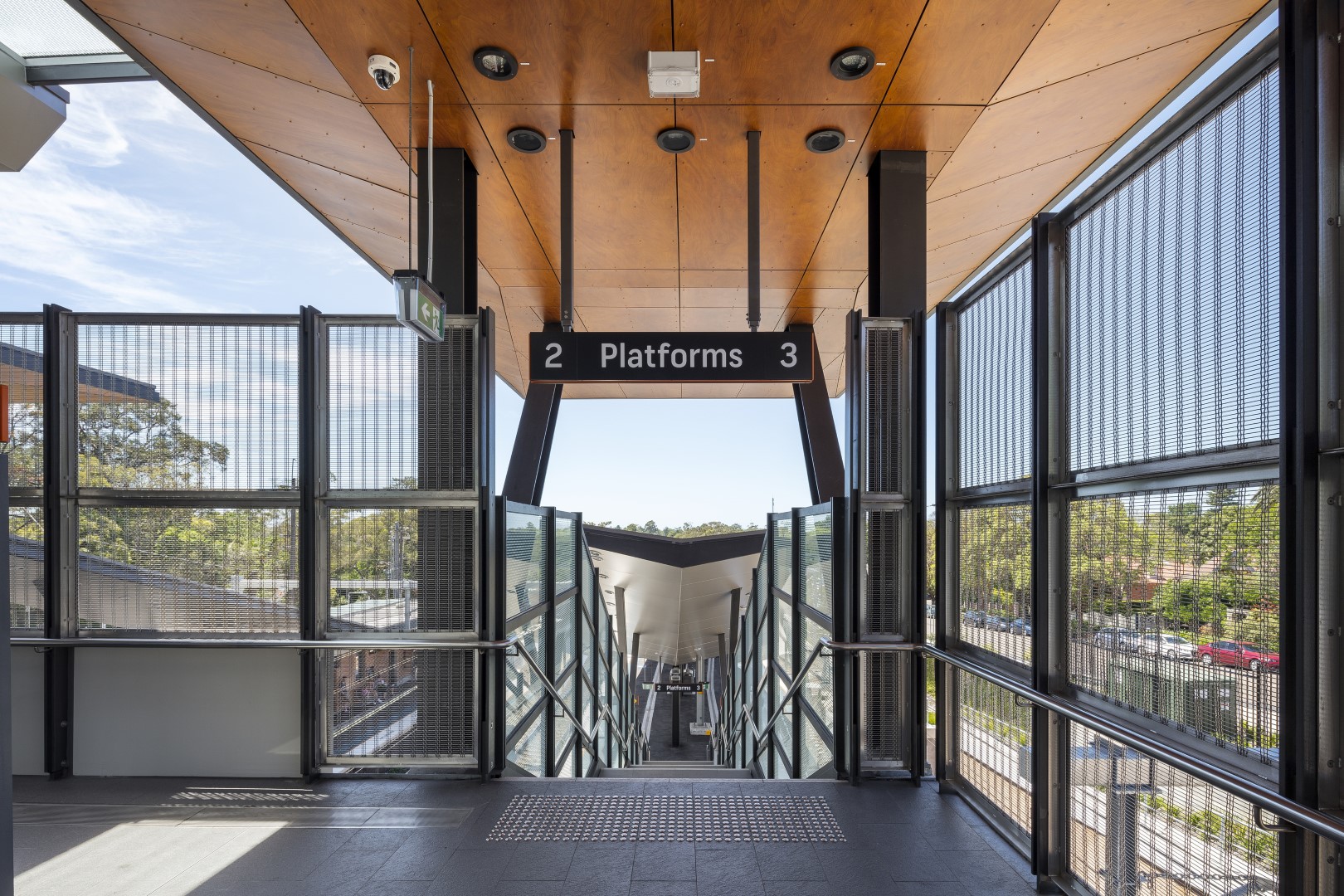 Tom Ferguson
Cheltenham Station opened in 1898 and was established mainly due to pressure from William Chorley, whose home was located near the station. Chorley prevented commercial development near the station by placing covenants on the surrounding lands which he owned. As a result the station is almost unique in the Sydney network, in that not only is there no urban hub surrounding it, there are not even any shops nearby. Its context is a green and heavily landscaped suburban environment within a heritage and conservation area.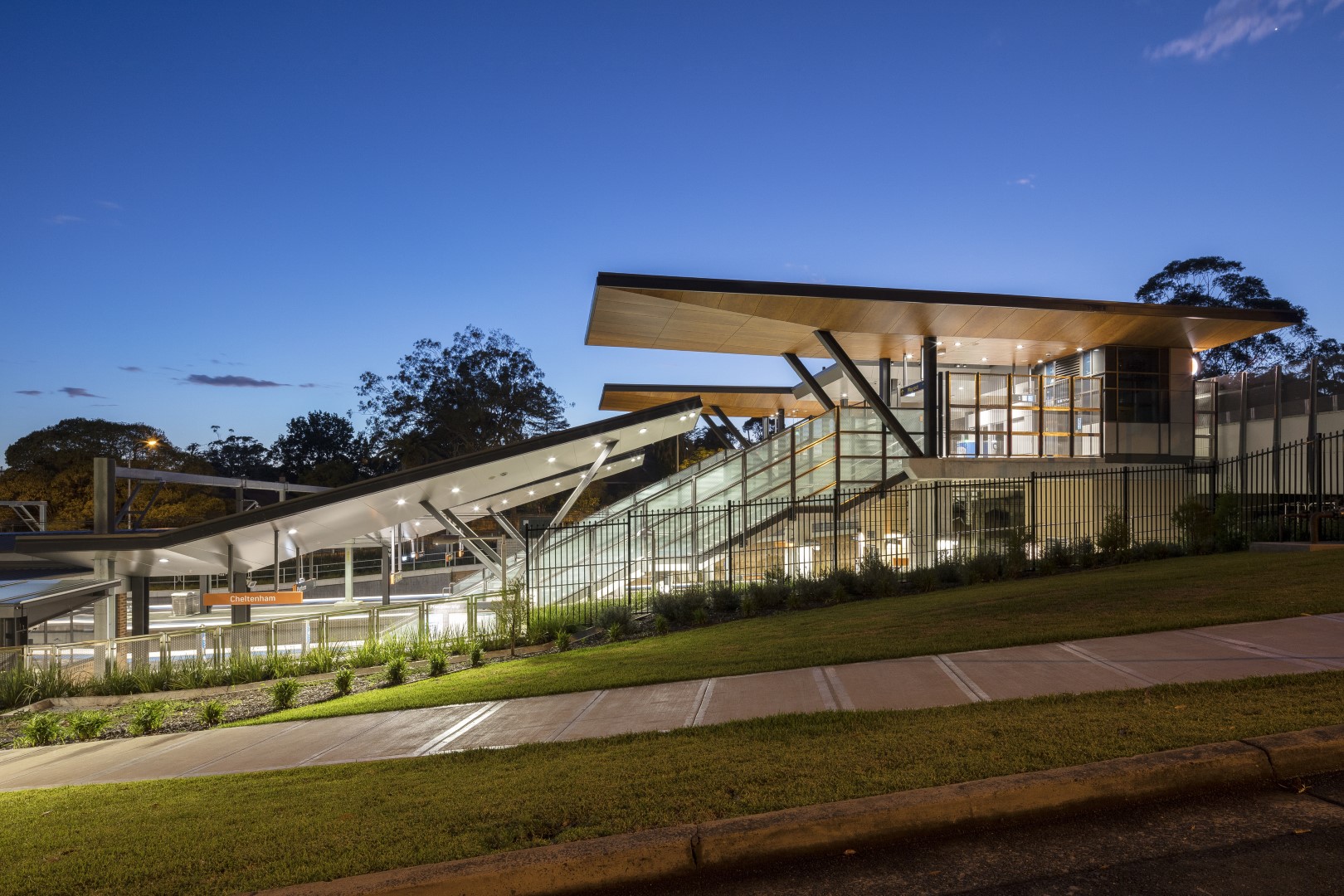 Tom Ferguson
Our approach has therefore been to achieve an appropriately scaled contemporary expression that celebrates an openness and engagement with nature, and creates a positive customer experience. This is achieved through an open concourse with views to the neighbourhood complementing the inherent character of the surrounding landscape. The station is as visually permeable as possible, and is expressed as a series of related smaller scale elements rather than one large structure. The new elevated concourse roof is designed to float as a free standing element, separated from the platform canopies. The improvement in views into and out of the entry concourse, and also out over the tracks and platforms below, improves the legibility of the station entry and also enhances safety and security through passive surveillance.
Tom Ferguson
Existing buildings at platform level have been retained where appropriate and aspects such as subtle differences in face brick colour in parts of these buildings express the story of the evolution of the station over time. The platform canopy design is simple and modular allowing for an efficient structural solution, fast construction and a measure of pre-fabrication, which combined to maximise value for money and public transport benefit to the community. Cheltenham Station is now an exciting destination and an experience that will encourage rather than discourage public transport use.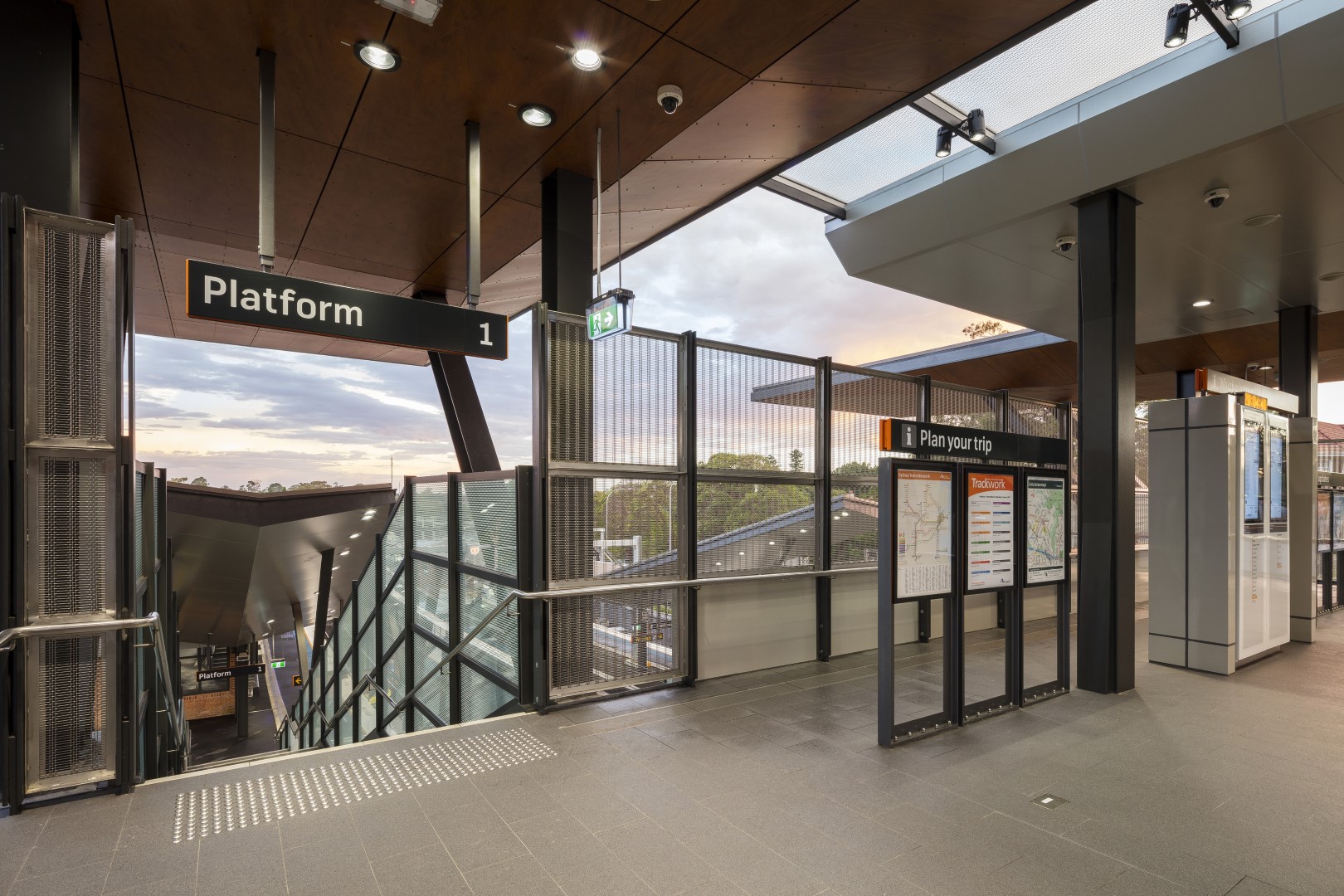 Tom Ferguson
What are the sustainability features?
Cheltenham Station delivers a highly sustainable outcome as a result of its basic configuration and inherent function. The refurbished station retains a fully open air and naturally lit day time environment for customers and incorporates energy efficient night time lighting and other components that reduce energy usage overall. Perhaps more importantly, the new station is now transformed to be an exciting destination and very positive customer experience, and this will encourage public transport patronage as a desirable option for local residents.
More Images / Drawings
Tom Ferguson

Tom Ferguson

Tom Ferguson

Tom Ferguson

Tom Ferguson

Tom Ferguson